Who won't be interested in drawing the attention of visitors as soon as they appear on the site?

Yes, while most websites share the same goal of grabbing the visitor's attention few are actually equipped enough for the effect to take place. While using full screen website backgrounds is often considered effective for this purpose it takes more than just uploading a great image.
Full screen backgrounds used effectively can render great benefits including drawing instant traffic attention, offer a visual branding and indication of certain useful aspects of the site. But without following and implementing a few important principles there is always a chance of not getting the advantages of this design concept to the fullest. You can consider the below mentioned principles as golden rules for creating beautiful and effective full screen website background.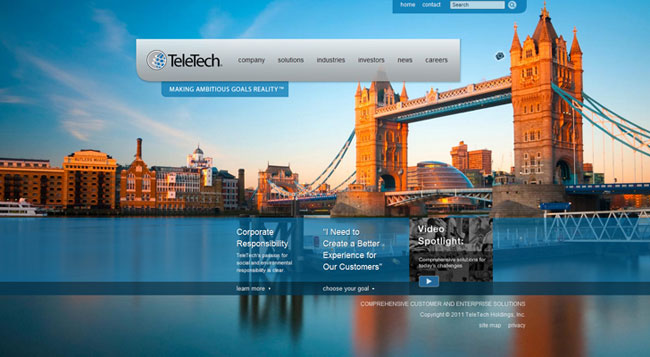 1. Bigger and high quality images
For website background using bigger and high quality images is must. Bigger the image you use bigger the chances of maintaining the same display effects across all device screens. While you must use high resolution images you should not use too heavy files as it can be burdensome on loading speed.
• A resolution 72 DPI (dots per inch) is ideal for background images.
• The image size should be 1250×800 or higher than that while maintaining the same pro-portion.
• Remember background image will create least burden on loading speed if other aspects are optimized for faster loading speed.
2. Make sure color contrast is visually appealing
However fabulous an image you use as background, it would after all serve only as a back-ground. So, maintaining color contrast is important to attract the users to foreground content. The text in the foreground should not be lost in the background image.
• Make sure your foreground text appears at the side of the screen offering highest con-trast in image.
• Offering most important line of text in a contrast optimized color box can also be a good solution.
• When using background video make sure background movement of colors never make the contrast suffer. Your foreground text should always remain prominent.
3. Contextual approach to full screen background
There can be an array of ideas for making stunning backgrounds. But you should judge whether they are ideal for the look and feel you want to create for your website. The back-ground visual should always be purpose oriented and contextual. Obviously a business website with focus on marketing product range would have a different visual approach com-pared to a website belonging to an app designer brand.
• Slideshows comprising full screen images can be a perfect visual strategy for displaying products.
• Background video and slideshow of full screen images, both can be effective strategy when you want to achieve a storytelling effect.
• For content rich sites full screen background image is only recommended at the home-page.
4. Adjustable layout while using large background
As responsive design steadily became a cornerstone of website design with the mobile de-vices taking over traditional computers, adjustable layout while still using large background image became popular. Full screen background often lacks responsiveness in offering dis-play across various devices. Using adjustable layout is a solution to this varying problem.
• Fixed height website header with a high quality large image above the fold is good for maintaining consistency in all devices.
• Using white space below the image can create a layering effect with additional options of offering some 'call to action buttons' there.
• The adjustable layout is for responsive display but the scope of full screen effect should still be there.
5. Achieving a coherence and balance
Finally, using full screen image requires certain insights and skills in design elements. An image can offer a variety of visual elements including people, things, landscape, interior, etc. The visual meaning expressed through the image or the sense created by it must comple-ment the foreground text and the website purpose. Another important aspect is the perfect visual balance and coherence of color, fonts and shapes.
• Always make sure that the image used is contextual to your site purpose and content.
• Start with uploading the image and then put other elements to make the design effective and harmonious.
• Utilizing the objects or people in the image to display your foreground text can be an ef-fective strategy.
6. Layers and shapes to give priority to content
While using the full screen background you can use a box or any shape to display your con-tent. If you feel it a priority to display few lines of text, while the full screen visual is still there using a text box or a layer over the image can be effective.
• Text box is good when reaching perfect contrast seems difficult.
• Text layer or text box give you higher priority of content over design element.
• Using text inside a shape or box gives your content higher readability while avoiding clutter in design.
7. Test it on all devices and fine-tune
Finally, it is needless to say that all your website users do not use the same type of browsers and devices to access the web and naturally it is not unlikely to face problems concerning the display of full screen background images. Addressing this possibility is must because with increasing number of mobile devices being surfaced everyday one cannot be sure of the responsive features to work out in all device-browser combinations. Before unrolling for the audience, test the website in an all mobile and operating platforms, devices and browsers.
• At least make sure that the site displays perfectly in major browsers like Chrome, Firefox, Internet Explorer, Safari, Opera, etc.
• Test in mobile devices and tablets across major platforms.
• Test also on big screen desktops as well.
Final Thoughts
Full screen background has become a trend now but how effectively and creatively you can implement this to your benefits, would make all the difference.