The importance of a good website is vital.

After all, itis just common sense that the better your website, the more your business will grow. Although that is a very easy fact to say, the difficulty lies in putting this into practice. A good website featuring strong web design is essential for a wide variety of reasons. From reflecting and bolstering your brand identity to boosting traffic, engaging visitors and driving sales, all are essential components and tasks that the website must complete.
However, web design has the potential to get extremely complicated very fast, sometimes rendering even the simplest of tasks incredibly difficult to complete. While this is important to keep in mind, the necessity of a great website in today's digital age should never be ignored.
If you feel that your website is no longer reflecting the quality and calibre of your business, it may be worth considering an update. Make sure to do your research, scope out competitors and identify the biggest up-and-coming trends in web design in order to ensure your new site is as good as can be. Since a modern and slick website is a must for driving sales and attracting customers, you should be doing all that you can to ensure your website meets this criterion and is up to scratch.
Of course, a complete overhaul of your website can be an expensive undertaking. If you don't have the time, money or resource available for a full rebrand, there are certain ways and quick fixes that you can improve your existing website at a fraction of the cost.
If you are in need of some help or just want to be pointed in the right direction, here are some tried and tested methods in which effective design can help your website attract and engage customers and drive sales.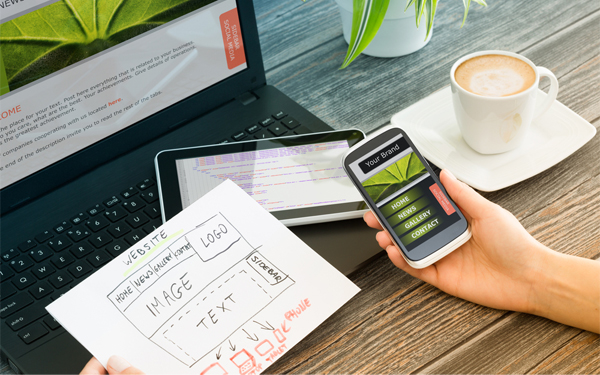 Platform
The platform that your website is hosted on can go a long way towards either aiding your cause or placing obstacles in the way. For example, certain platforms are much easier for novice or beginner designers to tweak and adapt. Similarly, some platforms are more search-friendly and user-friendly than others, meaning that the platform you choose can have a real impact on your business, sales and any digital marketing strategy you choose to put in place.
WordPress web design is considered by many as the king. Bespoke web design can be tricky for those with little or no experience, but WordPress is comparatively simple and easy to use. Web design needn't be a chore – if you really find yourself struggling, you can enlist the help of a professional or check out some of the many available online guides.
Brand Identity
A clear, strong brand identity across the board is a must. Memorable and instantly recognisable, it is a vital marketing and promotional tool and can really benefit your business. Encompassing your name, logo, slogan, website and any promotional materials, your identity is what makes your brand unique. Stand out from the crowd with a clear, established identity and ensure every aspect of your website corresponds to your desired look.
Mobile Friendly
Mobile friendly web design continues to grow in importance – the simple truth is that sites without mobile optimisation simply won't be as successful as those that recognise and embrace the increasing vitality of mobile. The easiest way to ensure your site is mobile-optimised is to use a conversion platform or mobile plugin to create a mobile version of your desktop site. Although this can be tricky, the results really do speak for themselves. Make sure you are fully clued up and prepared for the future by ensuring your site is as mobile-friendly as possible.
Even just the simple act of following this small list of tips and tricks should go a long way towards helping you boost your business. Drive sales and work to increase traffic to your brand new and improved website, ensuring a successful future driven by smart thinking and effective web design.
The digital environment has evolved into a vital component of any business. Nowadays, it is more important than ever to ensure that your website is where you want it to be.