Looking to whoosh the sales, then target your audience with the right information.

Looking to whoosh the sales, then target your audience with the right information. The best way of meeting your business goals is through direct marketing. In this type of strategy, it is directing the information right towards your customers. Direct marketing involves direct mails such as leaflets, which being connected to the traditional marketing system of businesses has much more remain the same in the modern era too.
Though leaflets are one of the oldest means of business promotion, it still holds its value and is being favorites among many marketers even today. These modern yet traditional marketing tools come way handy to organizations when they want to propagate their business across the city. It just involves distributing a piece of content on paper that they need to spread to the passersby or just to people wandering up and down the street. On the other hand, you can distribute these leaflets by the sideline of an event to the participants in order to promote your business.
Along with this, keep this point in mind that your leaflets should be attractive and professionally created so they can grab the attention of people around you who are busy with their lives or other events surrounding them. Therefore, make an impressive leaflet for taking your business content to people in a cost-effective way.
To target maximum customers, creating custom leaflets for your business is the most affordable way to market your products and services. However, affordability is not to be your sole purpose when it comes to leaflets. A well designed customized leaflet drives more customers to your business in a more effective way.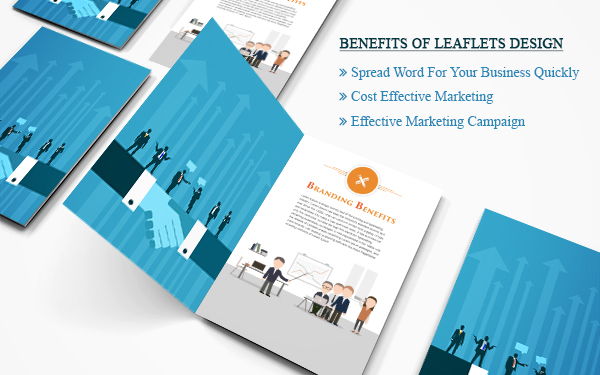 Major Advantages of Custom Leaflet Designs for your Brand
Spreads Word for your Business
Entrepreneurs want to spread the word about their business to the customers in the quickest possible way. While the other means of marketing takes industrious efforts and too many days, even weeks and months, before people get to know about their business. On the contrary, leaflets do the same job quickly. Take for an instance, information regarding your new product or service launch will be available to people just as you hand them the leaflet on the sidelines of a business event. Or, you can even distribute these leaflets to people walking by and they will come to know about your business at that very instant. This will also help you to be ahead of your competitors.
Affordable Means of Marketing
Usually the startups and small scale businesses depend directly on the leaflets as marketing tool because of its low cost. It just takes the printing cost of the paper. Added to this, color scheme, typefaces and other designing elements of leaflets are print-friendly. Hence, printing becomes the best option as it is lot simpler and lot affordable with no additional expenses of the technology. However, in order to maintain the low cost, you need to select the right distribution strategy. For example, ensure that you distribute the leaflets to the prospective customers at the right place. Such leaflets can add boost to your business. Just distributing the leaflets anywhere to everyone blindly will cost you unnecessarily without fetching results.
Also take care to avoid printing on large leaflets. These will not only cost you more but also cost extra burden on your marketing budget and a way more unnecessary investment. It would be wise to pick on small leaflets with precise information. And, definitely for long description there are many other marketing tools.
Launch a Result-Oriented Marketing Campaign
With a very small business, in the starting days it would not be possible to have a whole asset of marketing tools and other resources. In such cases, leaflets make a better option for reaching out to target customers. In short, your business gets the wings through the launching campaign based solely on leaflet marketing.
In fact, a whole day's campaign of giving away the leaflets from different centers of your city will reach a huge number of customers enlightening them with your business. Moreover, if you continue the campaign for few more days, this can fetch thousands of customers more getting acquainted with the products and services that you offer. And, isn't this a fair achievement for a business with a low marketing budget.
Overall, the above advantages of custom leaflet design are gained only when the businesses put extra efforts in designing the leaflets.
When you are creating the leaflet ensure that its color scheme, fonts, logos and other elements match with the elements that you have used elsewhere on your marketing campaigns. This will create awareness of your business brand. For example, if your business uses white as the main color and bold typeface, then use the same color theme and font in designing your business leaflets. This will help customers to quickly relate to your business and feel as getting information from a reliable source.
One more thing to keep in mind is customized design. Your leaflet design should portray your business vision. Therefore, ask your designer to consider your business values and vision when creating a leaflet. Ensure that the designer is well aware of your business, its products and services as well as the target audience. When well equipped with this information, the designer can create an exclusive leaflet especially aiming at your customers.
Important Points To Keep In Mind For Developing Customized Leaflet Design
Select A Simple Design
A more complex design just makes it difficult for audience to understand what your business is all about. A simple design with few colors and fonts stands out. Fancy leaflets with too many colors, images and content make it end into a dustbin.
Precise Information
Put relevant information on your leaflet without messing around on the different things. Don't be vague about what you want your audience to know. Just pin up the points in bullets about your business to grab the attention of the people.
Friendly Tone
Your leaflet must address the audience in a friendly tone rather than just boosting about your business. Keep it straightforward at the same time. Address your target customers directly and come to the point quickly.
Right Size
It is crucial to choose the right size leaflet. Never pick the large ones as they can be too costly and too small size is not at all desirable. A medium sized leaflet makes a perfect match for a competitive leaflet.
At The End
Wrapping up we can say that customized leaflets are the best means for marketing your startup business as well as small and medium sized business. It is not only cost effective but also quick to deliver directly to the target audience. Moreover, if you are finding it difficult for creating professional leaflet due to its high cost, you can outsource the designing work.