Create a Customized Design for Your Xbox Controller
Xbox gamers got lucky at this year's E3.

The Electronic Entertainment Expo, also known as the biggest annual event for the video game industry, allowed Microsoft to tease its audiences with their most exciting games, hardware, and accessories slated for release in 2016 and beyond. In terms of buzz, you can't get any more hype as E3, and Microsoft put it to good use, showing off a plan that includes updated consoles and interactive new games.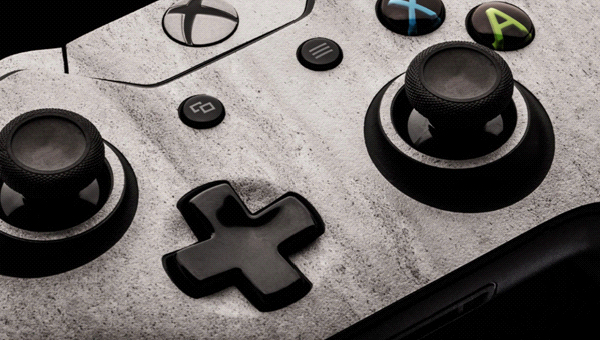 Back in June, Team Xbox presented their new line of hardware, including a fresh take on the controller. Though it will retain most of its good looks, Microsoft has made minor changes that will enhance its grip. The wireless controller will also be equipped with a Bluetooth app that lets it connect to nearby PCs, tablets, and other gadgets outfitted with Windows 10. The only hitch? It's not slated to come out until sometime next year, and that's if all goes according to plan.
This may come as a disappointment to the chronically sweaty palmed, as it will be another 12 months (or more!) of slippery game play. But why wait until Microsoft comes to the rescue when you have the option of solving your own problems. With the latest options for Xbox One controller skins, you can enhance your controller's grip, while taking advantage of these skins' other benefits.
Xbox One skins are a thin piece of vinyl that wraps around the controller. Its texturized material makes it easy to keep a hold of, even during a particularly stressful campaign. It's also grime-resistant and waterproof for the very same reason. The impermeable vinyl creates an air-tight seal around the system, protecting it from grime and dirt picked up from your hands. Though it stands up to grime and other spills without prejudice, a well-designed skin is tailored-made so it won't interfere with your toggles, buttons, or even the wireless Kinect.
You wouldn't even notice it was there, if it weren't for the serious upgrade to your grip. That — and the fact that the best Xbox One skins user like you prefer come in a variety of eye-catching designs. When you opt for a pink carbon fiber decal or a concrete skin, you can't help but look at your system in awe. Its simple addition can totally transform the boring look of your Xbox and infuse a sense of fun and personality into such a common gaming system.
Once you have one wrapped around your Xbox, you might not even need Microsoft's official upgrades. Why spend the extra money on a new controller when you can spend less to upgrade your old one? Not only will you increase its grip but you'll be able to update its look beyond the typical white design. Choose a style of your own and reclaim your older model. Get an Xbox One skin and see how it can help.