Surviving with billions of websites on the Internet is a very complicated and involves tricky approaches.

Surviving with billions of websites on the Internet is a very complicated and involves tricky approaches. To rank higher on Google, Search Engine Optimization is must, but for an ecommerce to appear distinctly available on the web the process becomes more complicated.
Ecommerce sites are different from general blogs or basic websites. These kinds of sites come with a lot of WebPages according to different products, categories, and listings. Ecommerce sites excel if they have a strong digital presence, if you are missing out on clicks, most probably you have slow sales.
Few stats imply that it is impossible to survive a digital store without search engine optimization. According to Kissmetric, ecommerce sites get their 30.5% traffic from SEO, along with this 44% of customers use search engines to begin online shopping. SEO for an ecommerce is complicated, a challenging task and very competitive but focusing on some parameters may result in a significant boost to your website.
Below we outline some SEO strategies that are crucial for an ecommerce website –
Here you go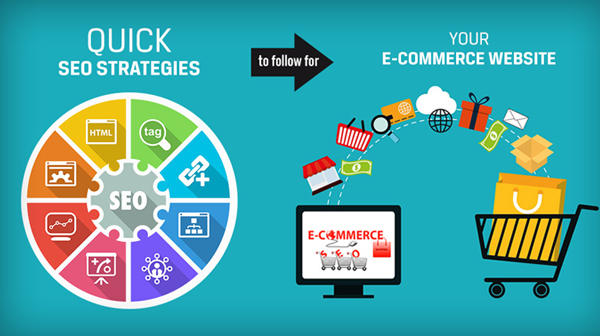 1. Optimize the website
• Easily Navigable – easy navigation on any website is not only beneficial relevant to SEO, but it also improves the user experience. A duly organized site, within its products and categories, engages more customers.
• Responsive – Going for an application to attract customers via mobile is the best option but a website that is responsive sums more to the availability for the customers. Ecommerce sites must let their clients have a good experience through mobile responsive websites.
• Keyword Optimization for the URLs – Ecommerce sites have multiple WebPages; assign different keywords for each of them which are unique, relevant and properly optimized.
• Build the inbound links – Link relevant WebPages to the products on your site. Customers always like to see alternatives available to a product. Create the links according to the same category, same brand; the same price tagged under, view people who bought this.
• Use HTTPS – Always implement HTTPS to your ecommerce website, the payment facility is more secure than on your site.
2. Content is the King!
• Product Description – As for the description also, it should be unique as every product is unique. Keeping the same description will hurt your sales on ranking.
• Unique and Catchy Meta Description – As similar to general websites each page is different from one another, keeping the same meta description will result in a penalty by the search engine. A catchy Meta Description quickly attracts the users from search engines.
• Include the product's photos and videos – Post the products with their relevant images and videos also optimize them so they can be readily available via image-based searches. Use slider to view multiple pictures of a product.
• Bulleted List for features – Features and Product specifications are more presentable to users in list format, they seem to be easily readable and also attract customer at the same time than using in paragraph form.
3. Captivate the Customers
• Ask customers to post reviews about products – Products with reviews and rating more tend to get sell than the ones with not. Ask the customers to write a review for the product once they use or buy them. It adds genuineness to the ecommerce stores.
• Integrate Social Media – Allow people share the products on the social media, with major social media platforms. Recommendations on social media platforms bring more follow ups for products.
• Build a Forum for community interaction – Having a forum, can be used to post about offers and sales. Also with community interaction about your business and the products, people engross more with the website.
Top Daily Practices to Follow For a Quick SEO for Your E-Commerce Website
SEO is not a one-time performing task and is a volatile domain; the website also is not going to remain same always. A site that gets periodic SEO analysis can easily keep up with its rank and improve more on its visibility on the search engine.
• GoogleWeb Master Tools
Google Web Master Tool is a very popular tool and is highly recommended by the Webmasters. This tool is free to use and with this, you can easily do a routine analysis of your website. Also with this tool, you daily observe the site's statistics. Routinely look for any 404 Error, other errors, watch the performance of product pages on the SERPs, and also note the keywords, the popular search phrases.
• Penalties and Error Fixation
Just observing the site performance and the data is not enough. Recognize the items which are performing well and how to improve more with them. Identify the problems, the penalties if for duplicate content, broken links, and also rectify them.
• SEO Tools
There are multiple tools available on the Internet that can use to manage your SEO and SMO. Few prominent tools Moz, Search Engine Metrics, HootSuite, Buffer, etc. are very easy to use. They are built in with dashboards that can help you on website statistics, search results, errors, penalties, etc.
• Run a manual testing (sample)
Test the site by viewing it from the customer perspective, note down the error points and rectify them. Pick your selling product and compare it to others present on the website.
• Perform Data Analysis
Data analysis is an integral part of SEO, for marketers the data has to be present as properly analyzed, well arranged, and rich formatted. Hard data one which is not properly processed by tools and not analyzed is of use to them. It has to be efficient and useful for the marketers to perform various marketing activities.
• The Unavoidable Mobile Revolution
it's very crucial for your website to be on mobile these days, most of the people use mobiles to access the web than using desktops. You can for a separate mobile website, a mobile application, or a responsive internet site. Also, check daily what your users are viewing and find and work with the more scope of improvements.
• Let users do the promotions – Create your company or the ecommerce profile on various platforms like Amazon, etc. to build inbound links. You can also use coupon websites where users can get free coupon offers on your products.
Wrap-Up
SEO is an integral part of an ecommerce site, but the essential element of it is monitoring as well updating the website with the business growth. Following the best practices and understanding customers need towards the digital store can lead to better rankings and more search visibilities.