If you have built a mobile app and now want to ensure app distribution and adoption, then there is no easy way available to you as a marketer to promote your app.

You will need to do this using various ways and means available at your disposal.
You should always realize it not always necessary that your app will sell well if it is just put up on the app store. This actually is a rather simplistic approach towards marketing and promoting your app. You need a more realistic way to promote your app so that it is downloaded many times more by the user fraternity than what you initially expected or planned for.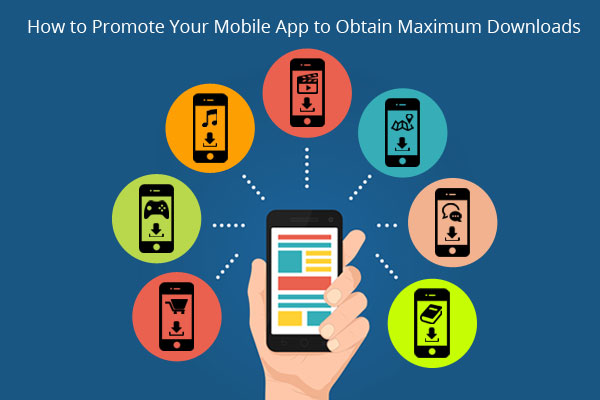 1. Plan for the launch thoroughly
When you are building an app, you will need to plan for the launch as well. For, the app could be well built, but the launch could be poorly executed. Various efforts on all fronts are required, such as competitive analysis, media efforts, reviews, and even PR support.
2. Use as many avenues as possible for promoting your app
Why not use various avenues such as email, websites, and even your company homepage to alert users that you will be launching a new app shortly. You can even use the world of mobile to spread the message about your intended app launch. Utilize QR codes, SMS codes, and easy to remember URL's that help you promote your app to ensure a definite download.
3. Target the appropriate audience
Targeting a wrong audience could lead to all your plans misfiring and going awry. The wrong audience will obviously not download your app, so all your efforts could go waste. For example, an app that is designed for middle aged business people who are say 45+ years old will not gel well with individuals who are of the age group 20-25 and are seeking a social or gaming app.
4. Try promoting via Social Media
Various social channels such as Facebook and Twitter are examples of good platforms to promote your mobile apps. You can also go in for geo targeting with social media, so you can receive responses from just those locations where you want your app to sell.
5. Go in for cross promotion
You can always turn to a business partner or friend for help. You can talk to them to see if cross promotion opportunities are possible. If you are a travel boutique, then you could request your travel partners and see if such a possibility exists.
6. Try launching an app for free!
Offer your app for free initially. When you app is being downloaded, it's a good idea to offer it free of cost in the beginning, but then price your app as well. You can offer it at the regular price afterwards. Promote your free offer through various offline and online media, so that it is appropriately shared.
7. Try Banner Advertising
Try and go for banners on various banners and niche websites. These banners can be purchased through ad networks or even directly from the website or blog owners. If an ad network is extremely pricey, then try and buy a banner position from the website owners themselves. Convince them that your banner is going to bring them more traffic, so you will definitely receive a reply to your banner advertising query.
8. Go for a website
You need to build a place or rather a home for your app on the Internet, where you will not be simply limited to the description page that is standard of the particular apps market where your app is put up for download/sale. A simple one page website for your app will be enough to serve the purpose. You can also utilize the proven techniques of SEO, link exchanges, and banners to promote your app. Such techniques will definitely improve your app's download rate. Simply make the download app prominent enough, so that users know where to click to download your app.
9. Timing of the launch
Always ensure that the timing of the launch of the app gets you maximum exposure and initial momentum. Once you reach a critical exposure for your target audience, you will get an amplified response to all your press releases, banners, blog posts, and the like. This will ensure maximum downloads in the various apps markets for your apps.
10. Go for Cost per Install (CPI) campaigns
Most users will view perhaps only the first 50 apps in the Google Play and App Store lists. Hence, one of the best ways to go about this issue and make the app reach the highest spot is by going in for a CPI (cost Per Install) campaign via different advertisers. This method necessitates that you pay a certain amount of money for every completed install. The idea is to climb to the first 50 apps in the list that makes up your niche. Several networks such as Tapjoy and MagicSolver offer CPI campaigns.
11. Reviews
Reviews offer social proof that the concerned app is worthy of downloading and use. Not only does a lack of reviews look bad for the potential downloader, but can also put them off from downloading. You can get reviews by many ways. Friends and new users can give you good reviews. You can also use various tools that boost your reviews. Also answer your user's reviews so that they know you care.
Conclusion
These are not the only ways to promote your apps to obtain maximum downloads. There are several other ways to do this, but the steps listed above will enable you to commence on the right track!