Daily deals website is one of the popular online eCommerce businesses that had instantly caught the fancy of consumers ever since its emergence.

Over the years, online eCommerce has taken different forms to reach out to the audience. Still daily deals software continues to stay in contention and has been able to carve a niche for itself because the underlying concept is centered on discounts. After all who doesn't prefer discounts?
Offering a product at a discount could seem to incur loss to the merchants. But when customers arrive in bulk to avail these offers then obviously it offsets for all the losses. As daily deals website creates a win win situation to all those involved in the business ecosystem (huge customer inflow for the merchants, brokerage commission for daily deal site owner and discounts for the customers), daily deals software has been the most sought after.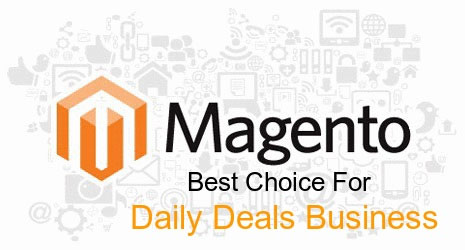 Is daily deals a profitable venture and how has the growth trajectory been?
Of course it is very much profitable. The daily deals trend started in 2008 and gradually gathered steam in 2010. At present the response has been quite phenomenal. In fact the revenue earned by daily deals websites is expected to surpass $15 billion by the end of calendar year 2015. This humongous reach has goaded many entrepreneurs to opt for daily deals software.
What is the best platform when it comes to building a daily deals site?
When it comes to choosing a platform to build your group deals site, you need to opt for a flexible platform that complements your group deals software and your deals business. When it comes to flamboyance and flexibility Magento perfectly fits the bill. In general there are numerous extensions offered by Magento that improves the efficiency of your daily deals software. Now let us explore as to how Magento contributes towards the betterment of your daily deals site.
Customizable and flexible
Magento is an open source platform. Hence you can build your daily deals website the way you want. It is very easy to customize and developers will find it easy to integrate with group deals software, update contents, add additional pages to the website, etc.. Also it is not confined to any particular business as there are different editions of Magento platform, built to serve diverse businesses.
Offers a memorable shopping experience to customers
As Magento comes with advanced searching options customers need not sift through the daily deals site to find out their favorite deal. Magento simplifies the search procedure. Customers can type the name, description, price, etc. and the relevant deals are retrieved, thereby saving the customer's precious time.
Enhances the visibility of the deals
Daily deals, a Magento extension when integrated to your group deals software, lets you display multiple deals like Today's deals, Active deals, deals of the week, etc. distinctly on your page such that it catches the customer's attention instantly. You also get a flexible countdown timer to display the validity of the deals.
Prevents shopping cart abandonment
The social login extension offered by Magento when integrated with group deals software ensures a nifty registration process as the customers can register through their social networking accounts. While the one step checkout extension makes the checkout pages shorter and simpler. As a result it provides a quick shopping experience and prevents shopping cart abandonment.
Improves your site's conversion rates
Magento by default supports over 46 languages. As a result languages will no longer be a barrier in restricting customers from different linguistic backgrounds to visit your site. Magento also supports multiple currencies and hence global customers will face no issues while making the payments on your daily deals site. Customers can also find the active deals in other geographic locations by entering the location details.
From the aforementioned points it is clearly evident that the usage of a Magento platform for a daily deals website generates a synergistic effect on your business.