You have already interviewed a couple of guys for the job of an app developer.

You now begin to shortlist the candidates, but are still not sure as to what qualities you are looking for. These few points will help you to decide whether your chosen candidate is a genius or not.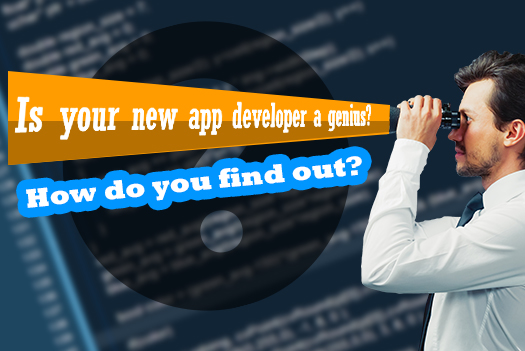 1. Cheap can be expensive:
In the prevailing market conditions where austerity measures are a common practice, you could be lured towards a candidate who is demanding a lesser remuneration. Don't fall for the trap. An app developer demanding a lesser payout may not turn up to your expectations, requiring you to outsource your project to someone else. So what's the point?
2. It takes more than coding:
Hiring an app developer who just knows how to code alanguage is no good. It takes more than just coding to develop an app. Creativity and designing skills along with a sense of imagination and application of logicare also required. Check out if your developer is equipped with these skills.
3. Long term association:
App development is an evolutional process. Apps are often upgraded, ridden of bugs and glitches as per user reviews and comments. What happens if your app developer decides to quit after developing the app? Choose someone who is responsible, dependable and can stick with you for a longer period of time or else providing support for your app will be a difficult proposition.
4. Crosscheck references:
It is always a smart idea to scan references of a perspective candidate. Who has sent him to you? What does the reference has to say about him? Is he highly recommended by the reference? These questions should be addressed to while crosschecking references.
5. Test Rigorously:
A simple Diploma certificate confirming that the candidate knows coding is just not enough. Put your App developer through a rigorous test. Give him a sample task to complete in a time frame, take a written test, and test his knowledge. Zero down on him only if he passes the test.
6. Sample works:
Ask your app developer to show you any app he might have created in the past. Check out his app properly. Check for any bugs. How user friendly it is? What is the style and design quotient? If you are completely satisfied with the product he has created, he becomes your obvious choice. Checking online user reviews of the app should also be considered.
7. Put your money on experience:
It is the ultimate benchmark which separates men from boys. An experienced app developer having an experience of a few years behind him should be chosen hands down. Experience empowers a developer to cope up with the practical problems faced in the line of work. Even if an experienced candidate demands a higher take home, he will turn out to be reasonable at the end of the day.
8. Your Client's list please:
Obtain his clients list, if available. Contact them personally to find out whether they are happy with his work or not.
9. How are his Internet Marketing skills?
Creating an app is easy. Millions of people do it every day. Selling it isn't. How will your developer promote his app? Does he have an insight of the SEO technology? Is he equipped with the necessary tools required for promoting an app?
10. Communication skills:
To bring up the last but not the least point. App development is not a one man job. It requires teamwork. Communication skills of a developer become crucial in this case. He has to communicate well with other team members as to what he wants from them and at the same time to understand as to what they are trying to say.