Well, if you are planning to start your own business,

then you have surely landed at the right place as in the foregoing presentation we would be showcasing you the 10 Best Video Sharing Scripts. Today we all are influenced by the immense popularity of video sharing sites like Youtube, Vimeo, Dailymotion, MetaCafe, etc.
These video sharing scripts are created on the most important platform on which your shopping website can be built. Keep in mind the first and foremost thing you should do while creating a video sharing website is choosing the right video sharing script for your site. The video script should be flexible and fully customization. Here I have listed the top most joomla video scripts for you.
Here you go
Apptha HD Video Share is a joomla extension that is introduced for video sharing purpose. Here you can add your favorite videos from Youtube, Vimeo etc.It supports Lighttpd, RTMP, Live telecast and Amazon S3 Streaming. The Joomla HD video share 3.0 is the latest version from the apptha group. This Joomla video component are more compatible as well as more convincing.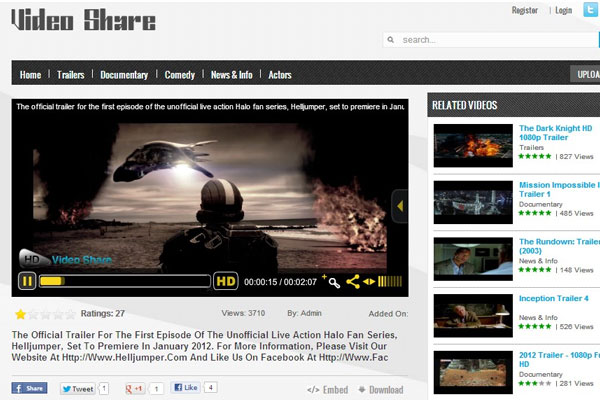 Video plus can be used for video sites, news, magazine related websites. It is compatible with WordPress3.3.2 and comes with a lifetime support. It is developed by theme-junkie. It is designed with SEO-friendly. It features are custom widget, browser compatibility and it supports advanced control panel.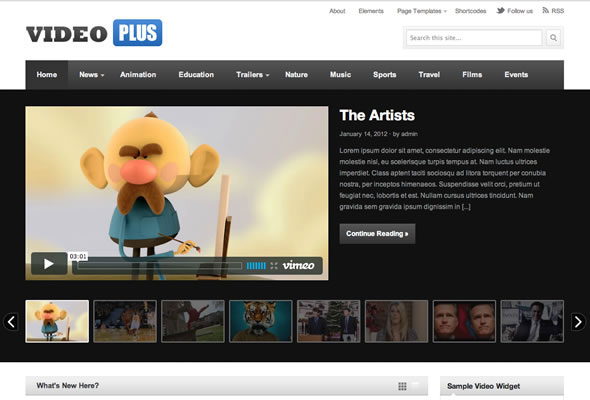 It is free All-IN-ONE video sharing script. As it implies, it is used for video sharing as well as image, audio sharing. This script is also used for blogging purpose. Here you can upload bulk images at a time and it also allows users to comment for your video, image and audio files.Hence you can delete your video or photo at any time as you wish.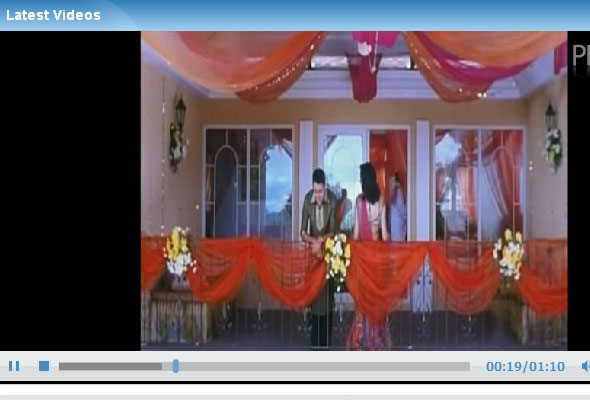 VBTubePRO is a Content Management System for Media Contents. It is a Basic Framework for creating a Website similar to YouTube fully integrated in your vBulletin Board. It allows you to communicate with others via forum. Dream to build your own profitable Video Community will comes true by this script. Here you can rise your question so that you will get the answers form the other developers through forum communication. You can gain a clear idea from the conversations between knowledge people.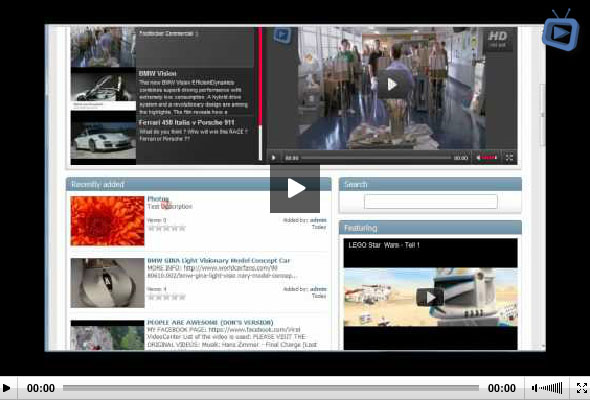 Vshare video sharing script allows you to run YouTube clone.You tube clone are nothing but PHP/MySQL scripts which allow you to create a successful video sharing portal like Vimeo, Youtube and Dailymotion.This script allow you to upload, rate and view your own videos. The videos are converted into Flv format and which can be later played with flash player.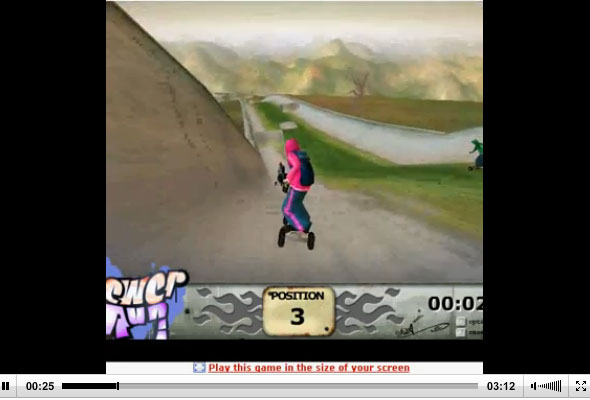 HwdMediaShare, a media software suite for the Joomla CMS. HWDMediaShare helps you and your community to publish media on your Joomla website, share media with other networks. It has been completely rewritten to work seamlessly with Joomla. It's like your own personal publishing platform.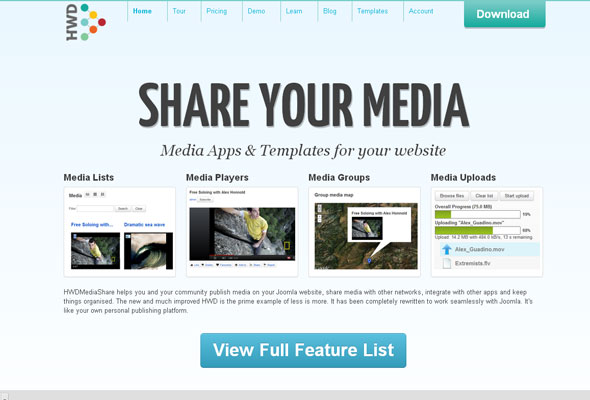 It offers attractive user interface, highly customizable, dedicated 24/7 support, almost 100% source code and above all it is affordable too. With this script you can improve upon your member's video collection with the fantastic function of Video Sharing. You can upload videos with detailed information like tags, title, description and category of the specific video which makes the site more SEO friendly.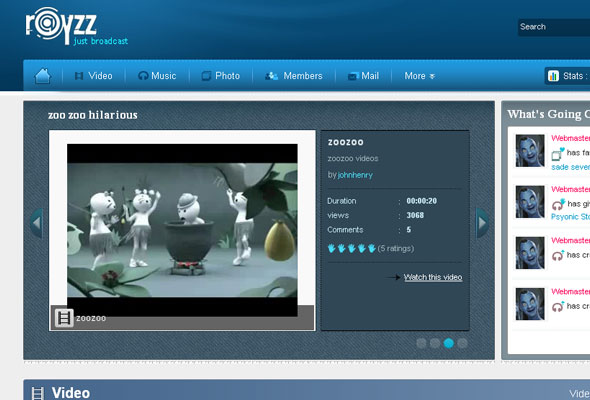 ClipBucket is an OpenSource Multimedia Management Script provided free to the community. It comes with versatile and advance features and aptly caters all your video management needs. Using this clip bucket you can easily create and run a video sharing website like Youtube, etc.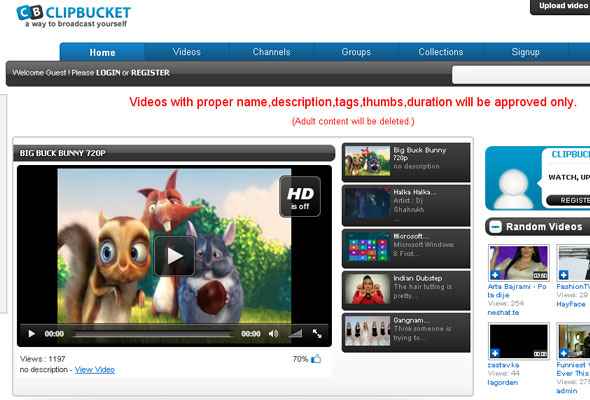 Mediashare is a cool sharing and hosting platform for building and running your own media sharing websites. It features are image sharing, video sharing, audio sharing, multi language system, word filtering, etc.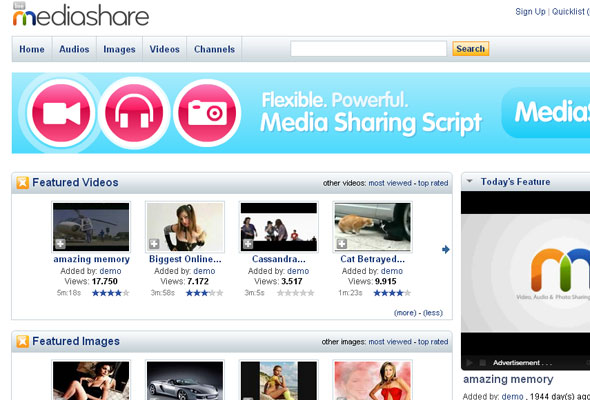 Chameleon is a dating software script with some big ideas, well advanced from many other dating script Chameleon includes many high-end social features.