Today I am showcasing some excellent Photoshop Plugins which are very useful for pushing your photo editing skills to a next level.

Wire Worm
This little plugin will help you remove wires and other unwanted objects from your images.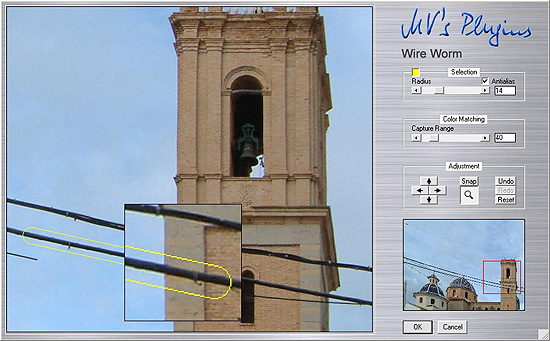 Harry's Filters 3
Harry's Filters is a free Photoshop-compatible plugin containing up to 69 different image effects. They were formerly also known under the name "VideoRave".
Harry's Filters 3 lets you choose the appropriate effect without hassling through different menus and dialogs. The main effect categories are called Color, Artistic, Gradients, Patterns, Warp, Noise, En/Decrypt, Other and Nature. They include filters for changing the image color or mood, for creating artistic effects, producing colorful gradients or impressive patterns, warping images and adding special noise effects to image. Additionally they let you encrypting and decrypting images with 64 bit keys, produce zoom, mirror or paint effects as well as natural effects like lightning, tornado and polar lights.
Harry's Filters is very easy and comfortable to use. It can be applied to RGB as well as Grayscale images. A Jump button lets you create interesting random effects and explore the possibilities of each filter effect. Options for saving and opening effect presets allow the user to store his favorite effects and reuse them later. An Instant Preview check box updated the preview while you drag the sliders.
New in Version 3 is a Play feature that produces animations with random parameters at a certain frame rate and speed. The animations provide an impressive demonstration of the effects of the different filters and are an easy way to discover interesting effect settings.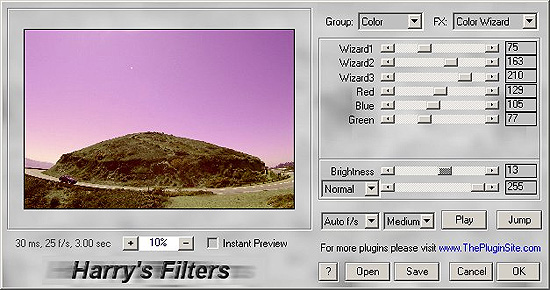 Pinocchio
Pinocchio is mainly a fun tool to produce image distortions by mouse strokes. You can use it for caricatures and such. Just click on the preview image and drag in whichever direction, then use the sliders for fine tuning. This version lets you perform multiple mouse strokes without having to exit and reinvoke the plugin.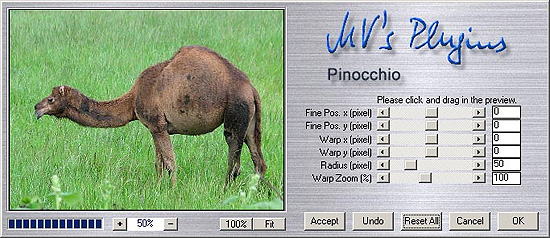 TheWorks
The Works is a collection of 8 plug-in filter sets for use with Adobe Photoshop or compatible host applications. Originally created back in the 90's, these filters have been updated several times and converted into a number of different versions. They provide the user with a base of very simple effects that can be handy on a regular basis.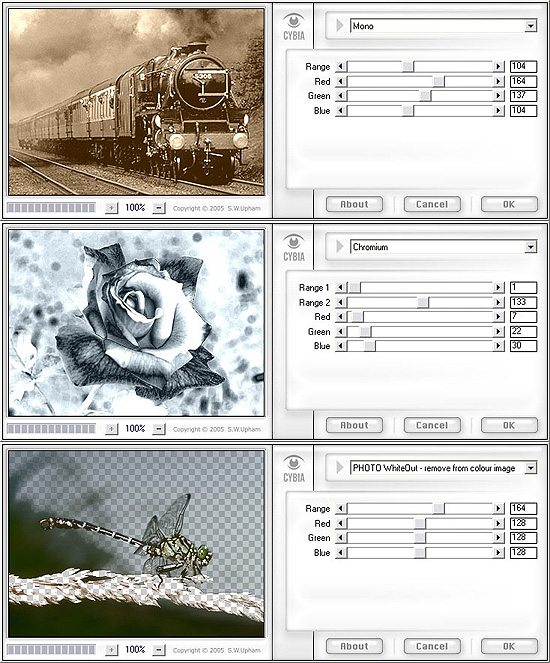 Pano Warp
This plugin lets you perform pixel transformations used in panorama stitching. I am well aware of some excellent panorama stitching tools out there which do it all automatically without you having to bother much. These work fine if you take your pictures with a tripod and make sure the horizon is in the middle, but if you don't, you can have a real hard time. There is also the problem with curved lines in architecture photography.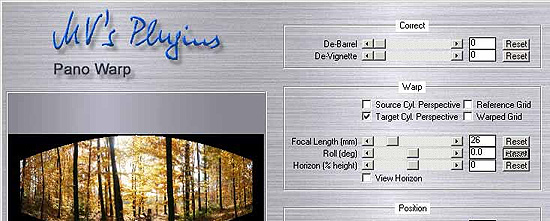 Color Replacer
This filter performs color replacement functions. The function is similar to Photoshop's Replace Color command, however, this plugin is more flexible since you can select the source and target colors independently. Therefore, it is possible to tint gray areas with an arbitrary color, which can be useful for recovering the color in overexposed areas.