For a web designer open source applications are very much helpful.

There are so many tools and useful software utilities to generate your task very simple and within your control.
In this article, we are going to present some extraordinary open source applications for our web designer friends.
KompoZer
KompoZer is a complete web authoring system that combines web file management and easy-to-use WYSIWYG web page editing. KompoZer is designed to be extremely easy to use, making it ideal for non-technical computer users who want to create an attractive, professional-looking web site without needing to know HTML or web coding.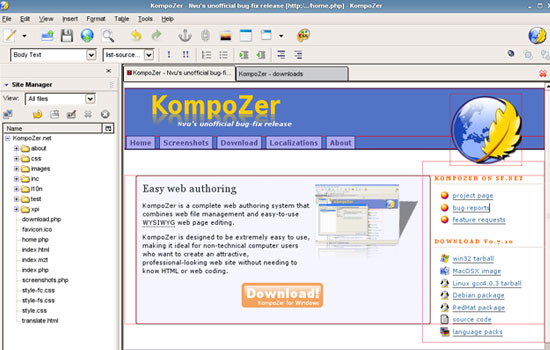 Scintilla
Scintilla is a free source code editing component. It comes with complete source code and a license that permits use in any free project or commercial product.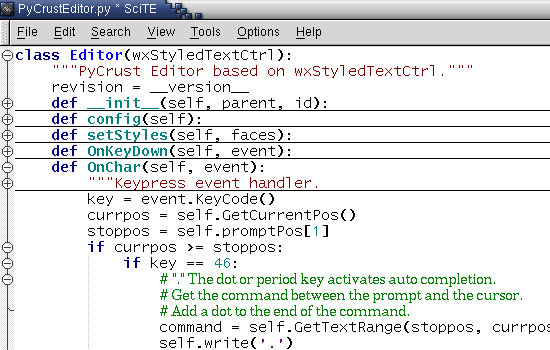 jEdit
jEdit is a mature programmer's text editor with hundreds (counting the time developing plugins) of person-years of development behind it. To download, install, and set up jEdit as quickly and painlessly as possible, go to the Quick Start page.While jEdit beats many expensive development tools for features and ease of use, it is released as free software with full source code, provided under the terms of the GPL 2.0. The jEdit core, together with a large collection of plugins is maintained by a world-wide developer team.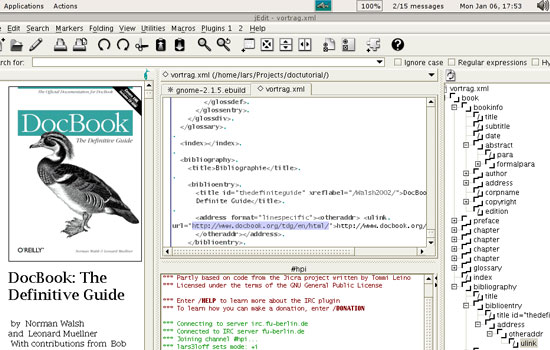 SeaMonkey
The SeaMonkey project is a community effort to develop the SeaMonkey all-in-one internet application suite. Such a software suite was previously made popular by Netscape and Mozilla, and the SeaMonkey project continues to develop and deliver high-quality updates to this concept. Containing an Internet browser, email & newsgroup client with an included web feed reader, HTML editor, IRC chat and web development tools, SeaMonkey is sure to appeal to advanced users, web developers and corporate users.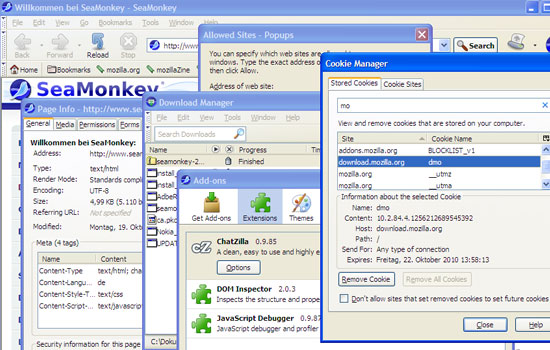 OPEN BEXI HTML Builder
OpenBEXI is a WYSIWYG HTML WEB editor which allows you to create Web pages for Internet. All texts, pictures, medias, timelines and DOJO widgets edited on your brother looks like the web page you are going to publish with the OpenBEXI publisher.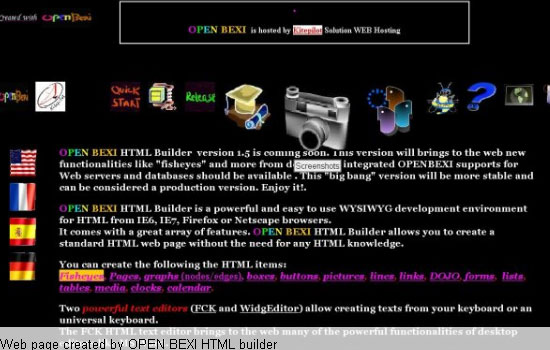 Cssed
cssed is a small developer editor and validator, that tries to ease the CSS editing. It is an Open Source project, it means that you can download the program but also its source. It features syntax highlighting, syntax validation, MDI notebook based interface, quick CSS properties and values insertion, auto-completion and dialog-based insertion of CSS complex values. Being a CSS editor, it's not limited to this language. cssed haved some support for HTML (with embbeded Javascript), XML, Javascript, Java, PHP, JSP, C, C++, Apache configuration files, .htaccess, Python, Perl, SQL, SH and other languages so it can serve quite well as multi-purpose editor.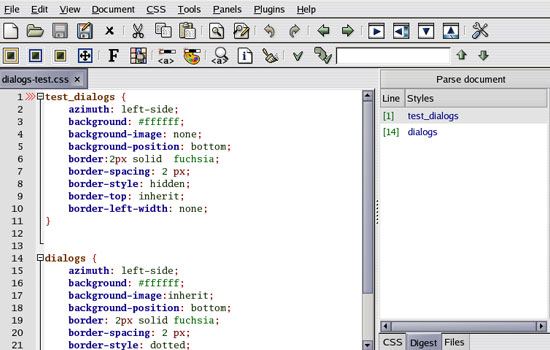 Bluefish
Bluefish is a powerful editor targeted towards programmers and webdesigners, with many options to write websites, scripts and programming code. Bluefish supports many programming and markup languages, and it focuses on editing dynamic and interactive websites.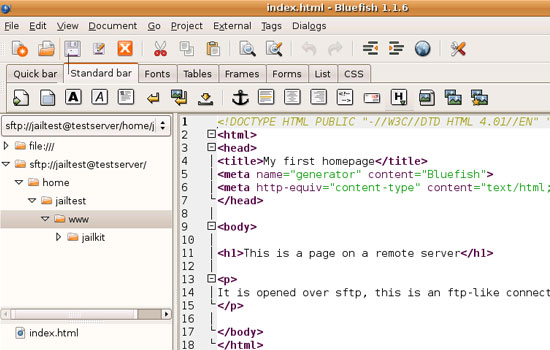 Amaya
Amaya is a Web editor, i.e. a tool used to create and update documents directly on the Web. Browsing features are seamlessly integrated with the editing and remote access features in a uniform environment. This follows the original vision of the Web as a space for collaboration and not just a one-way publishing medium.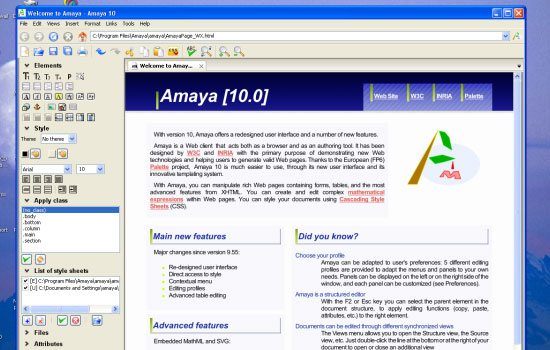 Firebug
Firebug integrates with Firefox to put a wealth of web development tools at your fingertips while you browse. You can edit, debug, and monitor CSS, HTML, and JavaScript live in any web page.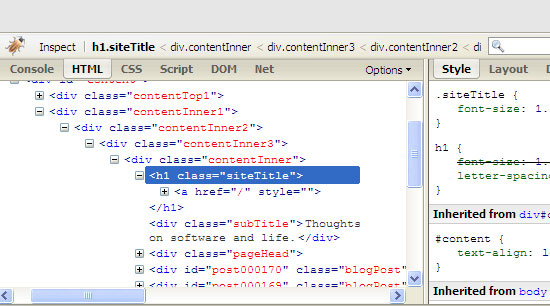 Inkscape
An Open Source vector graphics editor, with capabilities similar to Illustrator, CorelDraw, or Xara X, using the W3C standard Scalable Vector Graphics (SVG) file format. Inkscape supports many advanced SVG features (markers, clones, alpha blending, etc.) and great care is taken in designing a streamlined interface. It is very easy to edit nodes, perform complex path operations, trace bitmaps and much more. We also aim to maintain a thriving user and developer community by using open, community-oriented development.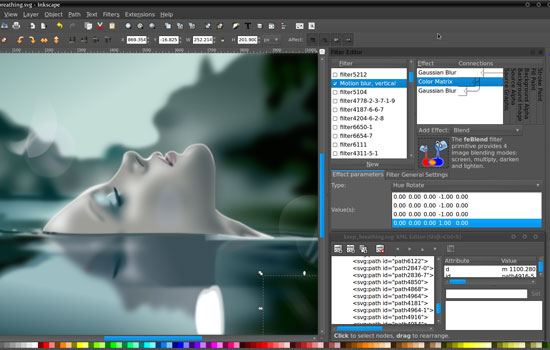 Skencil
Skencil is a Free Software interactive vector drawing appliction. Known to run on GNU/Linux and other UNIX-compatible systems, it is a flexible and powerful tool for illustrations, diagrams and other purposes.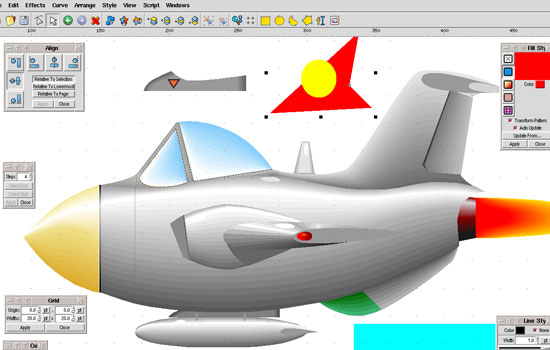 MtPaint
mtPaint is a painting program which Mark Tyler developed from scratch so he could easily create pixel art and manipulate digital photos. It uses the GTK+ toolkit (version 1 or 2) and runs on PC's via the GNU/Linux or Windows operating systems. Due to its efficient design it can run on older PC hardware (e.g. a 200MHz CPU and 16MB of free RAM). mtPaint is free software, which means you are able to freely use, modify and distribute it according to the GNU General Public License.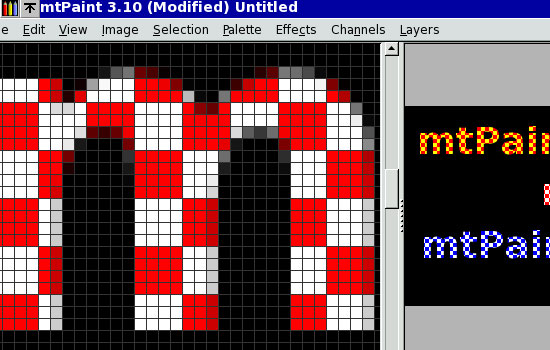 FontForge
FontForge — An outline font editor that lets you create your own postscript, truetype, opentype, cid-keyed, multi-master, cff, svg and bitmap (bdf, FON, NFNT) fonts, or edit existing ones. Also lets you convert one format to another. FontForge has support for many macintosh font formats.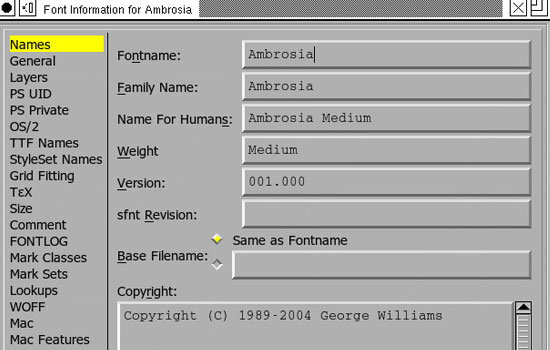 FileZilla
FileZilla, the free FTP solution. Both a client and a server are available. FileZilla is open source software distributed free of charge under the terms of the GNU General Public License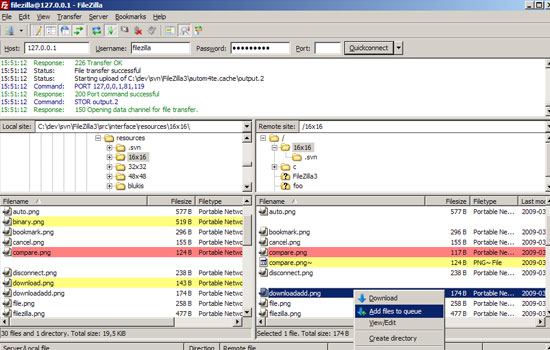 WinSCP
WinSCP is an open source SFTP client and FTP client for Windows. Its main function is the secure file transfer between a local and a remote computer. Beyond this, WinSCP offers basic file manager functionality. It uses Secure Shell (SSH) and supports, in addition to Secure FTP, also legacy SCP protocol.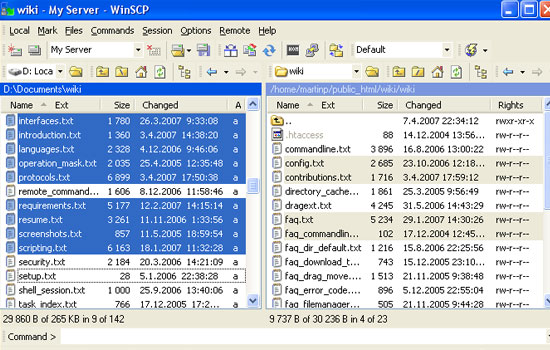 Greenshot
Greenshot – a free screenshot tool optimized for productivity.
Being easy to understand and configurable, Greenshot is an efficient tool for project managers, software developers, technical writers, testers and anyone else creating screenshots.