Web analytics is the measurement, collection, analysis and reporting of internet data for purposes of understanding and optimizing web usage.

Web analytics is not just a tool for measuring website traffic but can be used as a tool for business research and market research. Web analytics applications can also help companies measure the results of traditional print advertising campaigns.
It helps one to estimate how the traffic to the website changed after the launch of a new advertising campaign. Web analytics provides data on the number of visitors, page views etc to gauge the popularity of the sites which will help to do the market research. In this article, you'll find 13 excellent and free web analytics tool to help you gather and analyze data about your web content.
Google Analytics
Google Analytics is the enterprise-class web analytics solution that gives you rich insights into your website traffic and marketing effectiveness. Powerful, flexible and easy-to-use features now let you see and analyze your traffic data in an entirely new way. With Google Analytics, you're more prepared to write better-targeted ads, strengthen your marketing initiatives and create higher converting websites.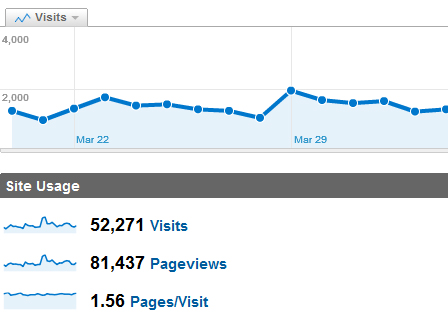 Piwik
Piwik is a downloadable, open source (GPL licensed) real time web analytics software program. It provides you with detailed reports on your website visitors: the search engines and keywords they used, the language they speak, your popular pages and so much more.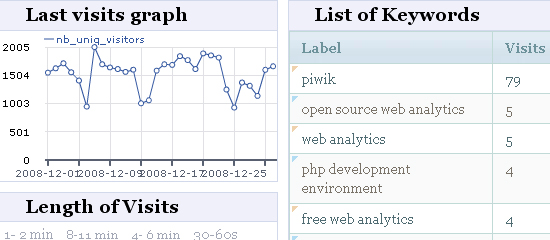 Yahoo! Web Analytics
Yahoo! Web analytics is Yahoo!'s alternative to the dominant Google Analytics. It's an enterprise-level, robust web-based third-party solution which makes accessing data easy especially for multiple-user groups. It's got all the things you'd expect from a comprehensive Web analytics tool such as pretty graphs, custom-designed (and printable) reports, and real-time data tracking.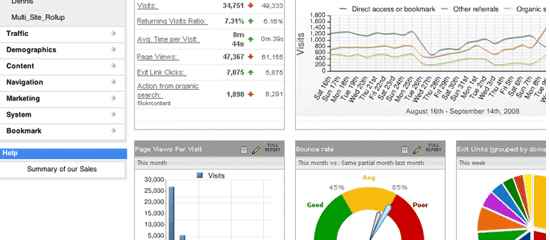 Snoop
Snoop is a desktop-based application that runs on the Mac OS X and Windows XP/Vista platforms. It sits nicely on your system status bar/system tray, notifying you with audible sounds whenever something happens. Another outstanding Snoop feature is the Name Tags option which allows you to "tag" visitors for easier identification. So when Joe over at the accounting department visits your site, you'll instantly know.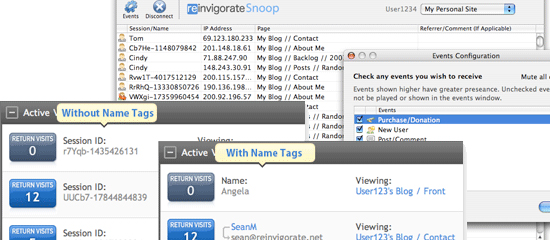 Woopra
Woopra is a Web analytics application written in Java. It's split into two parts which includes a desktop application for data analysis/exploration and a web service to monitor website statistics. Woopra has a robust user interface, an intuitive management system that allows you to run it on multiple sites and domains, and even a chat feature so that you can gather non-numerical information by talking to your site users. Woopra is currently in beta and requires you to request for a private beta registration.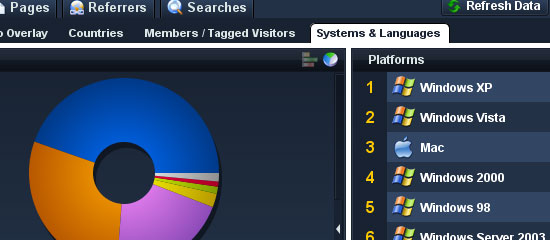 4Q
A large part of Web analytics deals with number-crunching and numerical data. Raw numbers tells only part of the story and it's often helpful to perform analytics by way of interacting with actual users.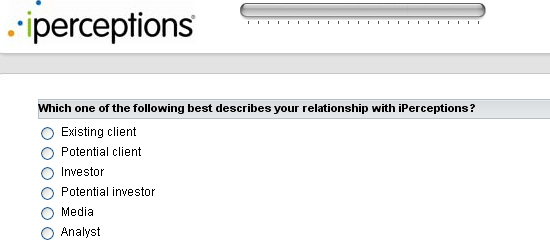 MochiBot
MochiBot is a free Web analytics/tracking tool especially designed for Flash assets. With MochiBot, you can see who's sharing your Flash content, how many times people view your content, as well as helping you track where your Flash content is to prevent piracy and content theft. Installing MochiBot is a breeze; you simply copy a few lines of ActionScript code in the .FLA files you want to monitor.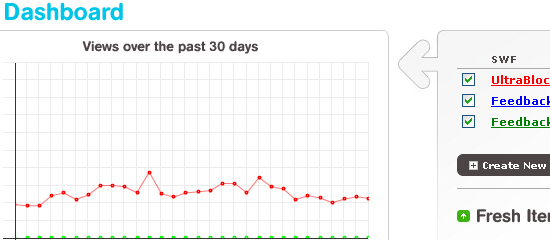 Grape Web Statistics
Grape Web Statistics is a simple, open-source application geared towards web developers. It has a clean and usable interface and has an Extensions API to extend and customize your installation. It uses PHP for the backend and you can run it on any operating system that runs PHP.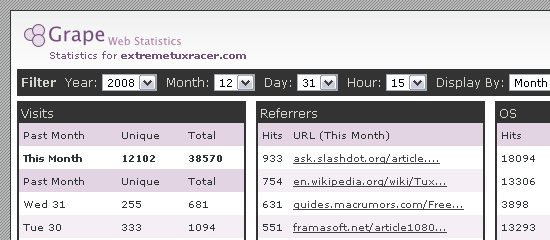 JAWStats
JAWStats is a free, open-source website statistics and analytics package. It runs in conjunction with AWStats and produces clear and informative charts, graphs and tables about your website visitors.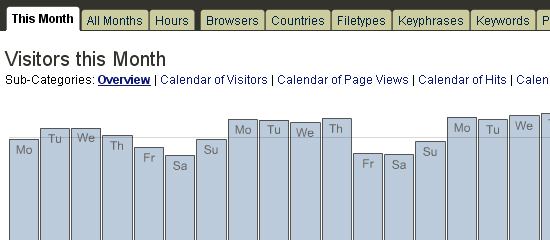 ShinyStat
ShinyStat was initially designed to monitor visits to Italian web sites. Now it is available to sites all over the world, and offers software packages for the individual user, the professional user who needs to track marketing, and a business owner who needs to monitor sales and ROI. There is also a level of service for ISPs to install and include with their hosting accounts.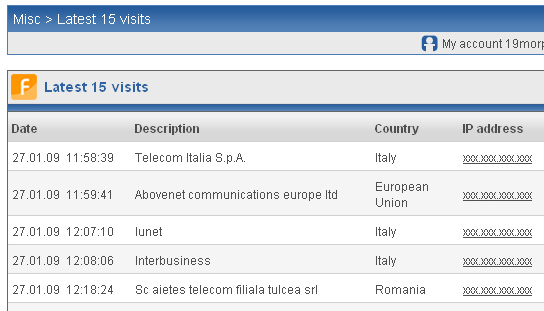 W3Counter
W3Counter comes in a free and paid version. With a free W3Counter account, you can track up to 5,000 page views a day across 10 websites and see all of the usual stats. In addition, you get a bonus that you can share your stats with anyone you like via widgets for your blog or an API that lets you build new tools. For sites with higher traffic, you can go for the Pro account that allows you to track up to 1 million views a month.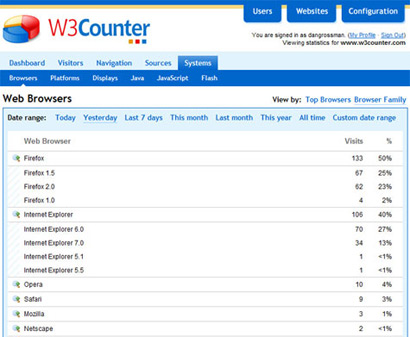 W3Perl
W3Perl differs from other analytics packages in that it doesn't just measure web traffic, but also can parse the log files of email and RSS to measure just about anything you choose. You can set up the administration interface for web access and gain real-time stats from there.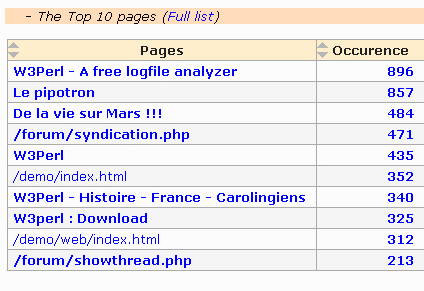 AWStats
AWStats comes pre-installed by many web hosting companies. Additionally, if you're setting up your own servers, you can download it for your personal use. AWStats goes deeper into the referring sites information than most analytics packages, and is a perfect tool for monitoring whether someone is hotlinking files from your site. Besides being a great detective tool for bandwidth thieves, it offers all of the usual useful tools that you might expect from a statistics package.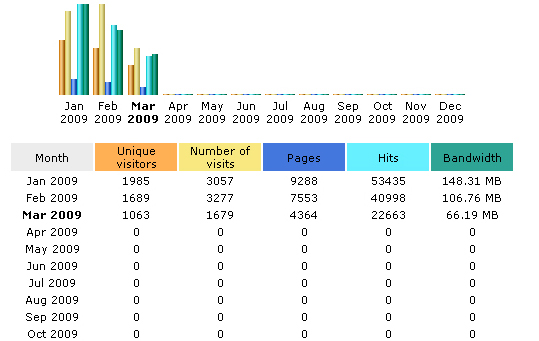 Plagiarism Checker
Plagiarism is the illegal use and theft of someone else's published work or written material. Material like, academic papers, articles, web content and books are considered as the spiritual properties of the creator. These properties are actually protected by the copyright laws and it is forbidden for everyone to take advantage or to use them without the consent of the author. We are going to help you with making your work more secure with the best plagiarism software possible.